Written By
Justin Fichelson
• 12/22/2017 12:07pm
In a digital world, where the top four most valuable companies in America are tech-based and either funded or largely run by millennials, the under-35 set is setting its sights on multimillion-dollar homes—and some are using
Bitcoin
to pay for them.
Bitcoin, a
cryptocurrency
that exists purely in digital form and works without banks or middlemen, isn't merely another new technology; it's an easier form of currency exchange. Ultimately, these transactions can be completed faster and more efficiently than working with traditional banking methods. In a survey conducted by the venture capital firm Blockchain Capital, 30 percent of individuals in the 18 to 34 age range would prefer owning $1,000 worth of Bitcoin to $1,000 worth of government bonds or stocks. With the currency's value skyrocketing to over $19,000 in recent months, it's no surprise the once-illusive form of cryptocurrency is emerging as a viable alternative to the dollar in the US.
Bitcoin is also gaining traction overseas among
foreign buyers
who are used to trading in various types of currencies. These buyers are looking to streamline purchase deals and investments, and because this form of cryptocurrency exists outside of traditional markets, it's a draw for investors looking for alternatives to the dollar, yen, or euro.
A new, $13 million off-market listing in San Francisco's Russian Hill is currently accepting Bitcoin offers and was designed to cater to the newly minted millennial millionaires and billionaires. The nearly 8,000-square-foot residence features a large open floor plan, the most selective one-of-a-kind finishes and sound-proofing throughout, all of which is ideal for the perfect party house. A
one-bedroom penthouse residence
in Miami may be the first listing to hit the market where the seller is strictly accepting Bitcoin as payment. The listing price is 33 Bitcoins or the equivalent of around $547,000—though the décor of the place leaves much to be desired.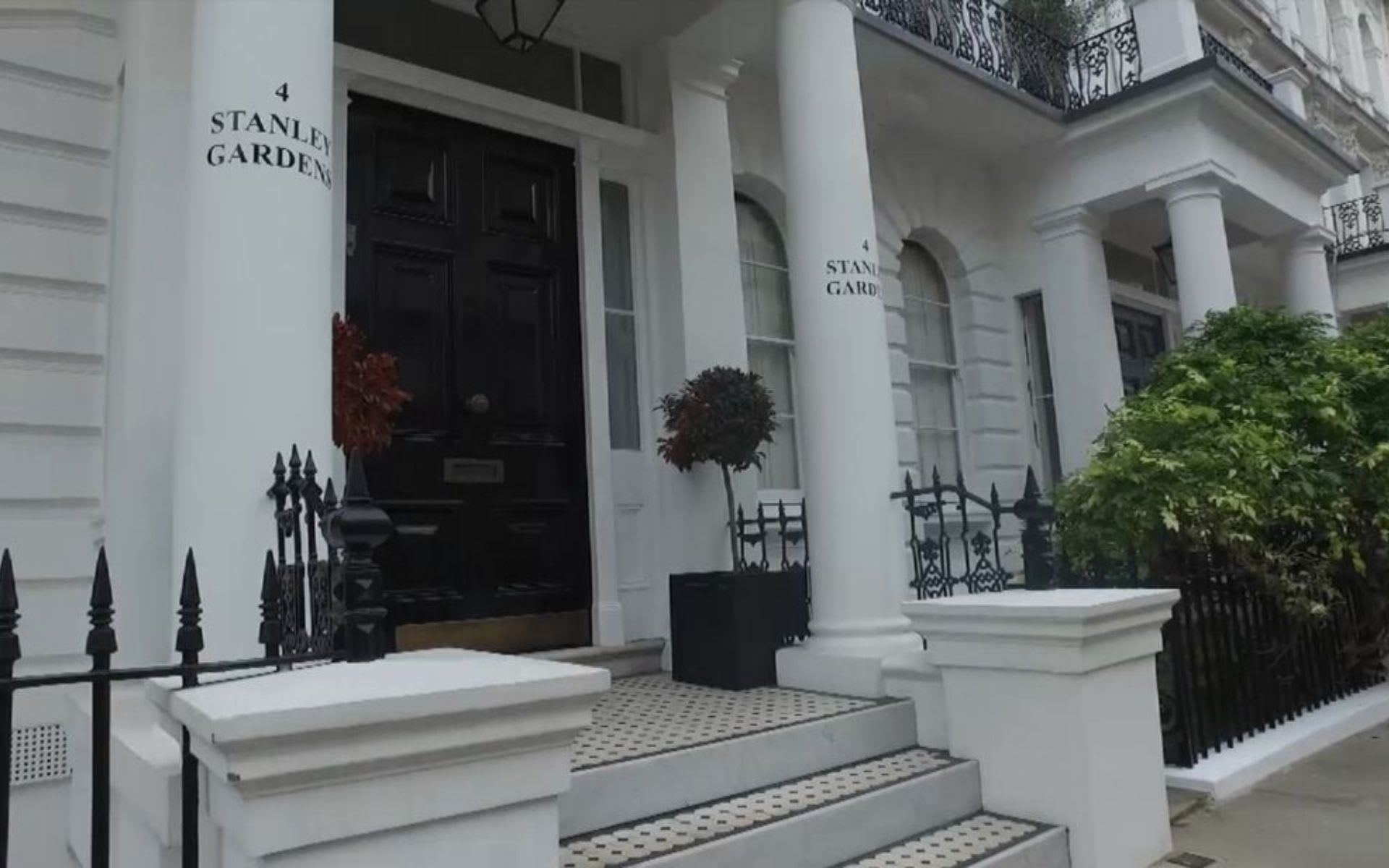 The preferred currency for this Notting Hill residence in London is, you guessed it, Bitcoin. Courtesy
Near Coral Gables, FL a nearly 10,000-square-foot mansion listed for
$6.2 million
—fully loaded with seven bedrooms, 8.6 baths, a three-car garage, a pool and adjacent cabana, plus a butlers pantry with two wine coolers—is also accepting Bitcoin as payment. In perhaps the most expensive listing to accept Bitcoin to date, a London mansion in the prime Notting Hill area landed on the market this past October for
£18 million or nearly $24 million
. The Agency currently has a listing in Turks and Caicos for an 894-acre parcel with 5,097 feet of beachfront on East Caicos and yes, they are accepting cryptocurrency offers.
For buyers who have made significant returns on the recent uptick in cryptocurrency value, it makes sense to buy a home using the profits. Sellers can benefit if the cryptocurrency payment rises in value, or immediately convert it to cash to avoid any risk of a potential drop in value.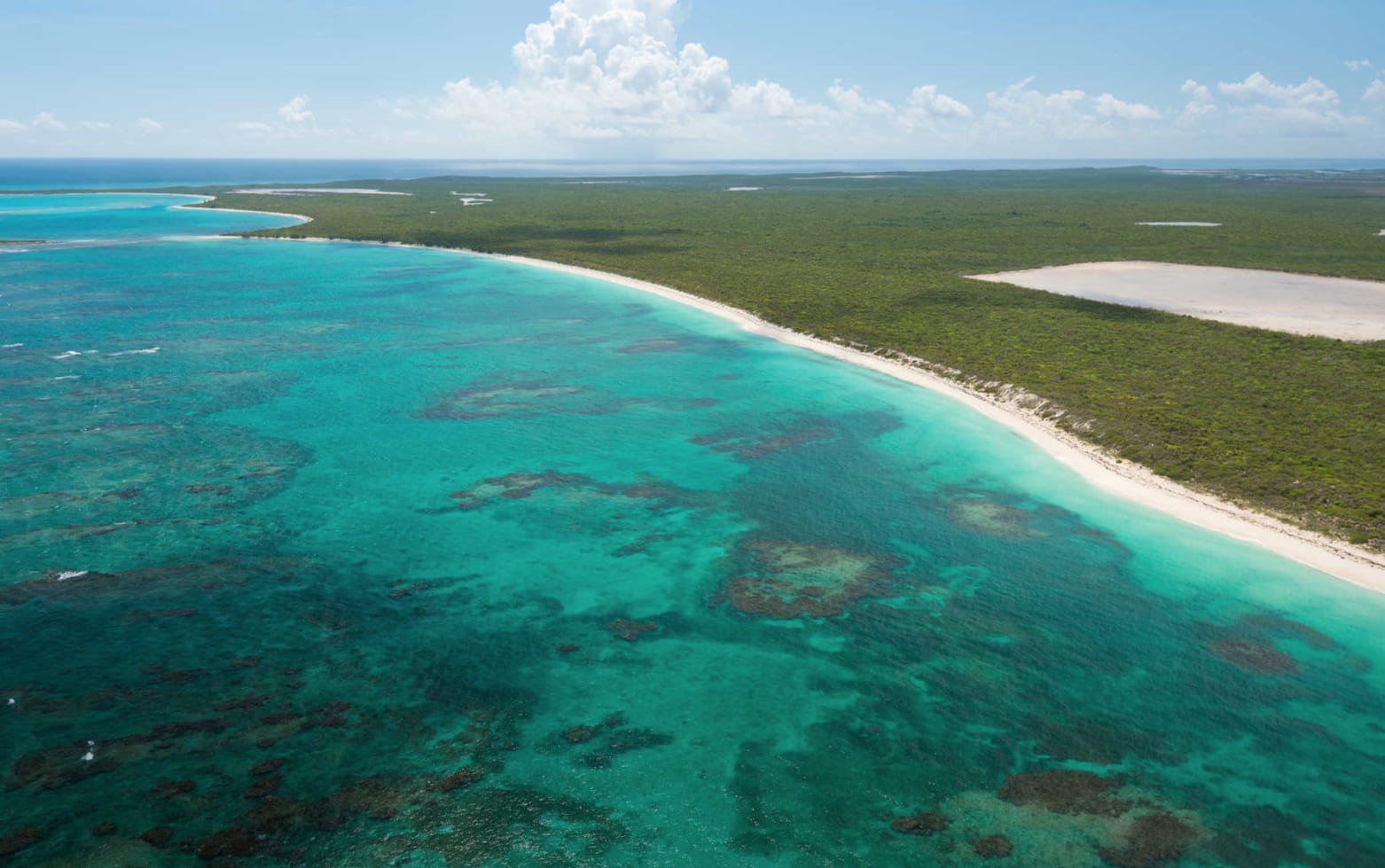 This 894-acre plot of land in Turks & Caicos is accepting Bitcoin offers. Courtesy The Agency
Bitcoin, however, isn't without its own inherent risks. As the currency isn't backed by any government and or regulatory agencies, there are virtually no consumer protections in place. Mt. Gox, one of the largest Bitcoin exchanges up until 2014, was abruptly shut down and as it turned out was hacked, leaving consumers clueless as to how they could attempt to recoup their millions. Further, if a government chooses to shut an exchange down, the value of that particular type of cryptocurrency would immediately plummet.
So it remains to be seen how big of a role cryptocurrency will play in the housing market and whether it will grow in prominence at the upper end of the market. What is clear is that there are increasingly more and more
big players
in the real estate market who foresee Bitcoin as the future. There's no question Bitcoin will be a hot topic to watch among real estate agents, buyers, and sellers as we enter 2018.
Star of Bravo's Million Dollar Listing San Francisco, The Agency's Justin Fichelson is one of the Bay Area's top-producing agents. Named San Francisco's Favorite Real Estate Agent by Forbes.com and a frequent guest real estate expert on CNBC, CBS and Fox Business, Justin's clients include A-list celebrities, Forbes 400-ranking business moguls, and the heads of some of the biggest tech companies in the world.
Filed Under: Lifestyle, Real Estate, Bitcoin, Real Estate, Luxury Real Estate, Cryptocurrency, Cryptocurrencies, Real Estate Finance SEE ALSO: Kendall Jenner Blames TMZ After an Alleged Stalker Breaks Into Her Gated Community for a Third Time.