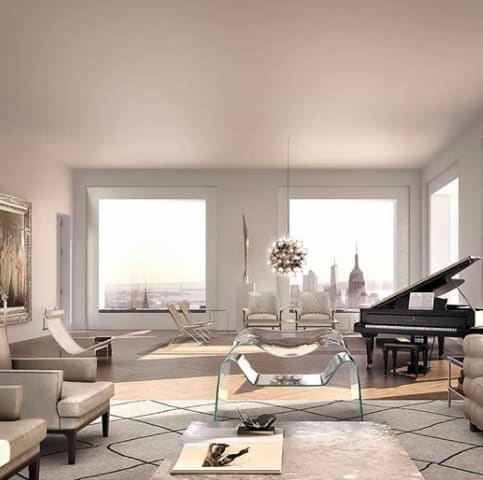 Written By
Justin Fichelson
• 03/05/2018 8:00am
The number of ultra-wealthy, high net worth individuals has grown exponentially on a global scale over the past few years. According to London-based luxury real estate brokerage Knight Frank, the percentage of these extremely affluent individuals—defined by those with assets in excess of $30 million—increased by 35.6 percent from 2006 to 2012 alone.
In what might be the least shocking news ever, those with deep-pockets have been circling the globe to snatch up homes as a means of diversifying their assets, making sound investments and, of course, putting their wealth on display. But rather than buying yet another vacation home in Aspen or a seaside escape in St. Barths, this newly-minted, uber-rich crowd is dropping cash on properties in some of the most obvious cities, including New York City, London, Monaco, and more recently, Los Angeles.
Here, we take a look at why these are the hottest cities for the world's wealthiest real estate investors.
London
Home to one of Europe's primary financial centers, London has been a global hub for commerce and investment practically since its inception. More recently, it has attracted major attention from rich citizens hailing from Russia, Asia and the Middle East—despite anticipated instability in the U.K., as a result of looming Brexit deals.
In London's prime neighborhoods of Knightsbridge, Kensington, Chelsea and Belgrave Square, apartments and townhouses have been snapped up by the world's global elite, with properties selling for astronomical prices per square foot, in excess of $100 million. Russian oligarch Roman Abramovich recently purchased nine prime London flats, bookended by Harvey Nichols and Harrod's, reportedly to the tune of over 150 million pounds.
According to research for London mayor, Sadiq Khan, foreign investors are also buying up homes suitable for first-time buyers that they intend to rent out to tenants, in an attempt to rake in some excess cash. Oftentimes, these purchases are linked to offshore tax havens. "Led by investors from Hong Kong and Singapore, foreign buyers snapped up 3,600 of London's 28,000 newly built homes between 2014 and 2016," writes The Guardian.
In London's coveted Belgrave Square (a.k.a. "Billionaire Square"), where prices range from 7 million pounds for an apartment to 60 million pounds and up for a home, 27 out of 30 property owners are foreign nationals. That includes the likes of Ukrainian "it" girl Ekaterina Fomichev, wife of Ruslan Fomichev; Ukrainian oligarch Gennadiy Bogolyubov, who owns a 60 million pound flat; and Sheikh Mohammed, the ruler of Dubai, who transformed his house into what The Daily Mail calls "a miniature Arabian palace."
New York City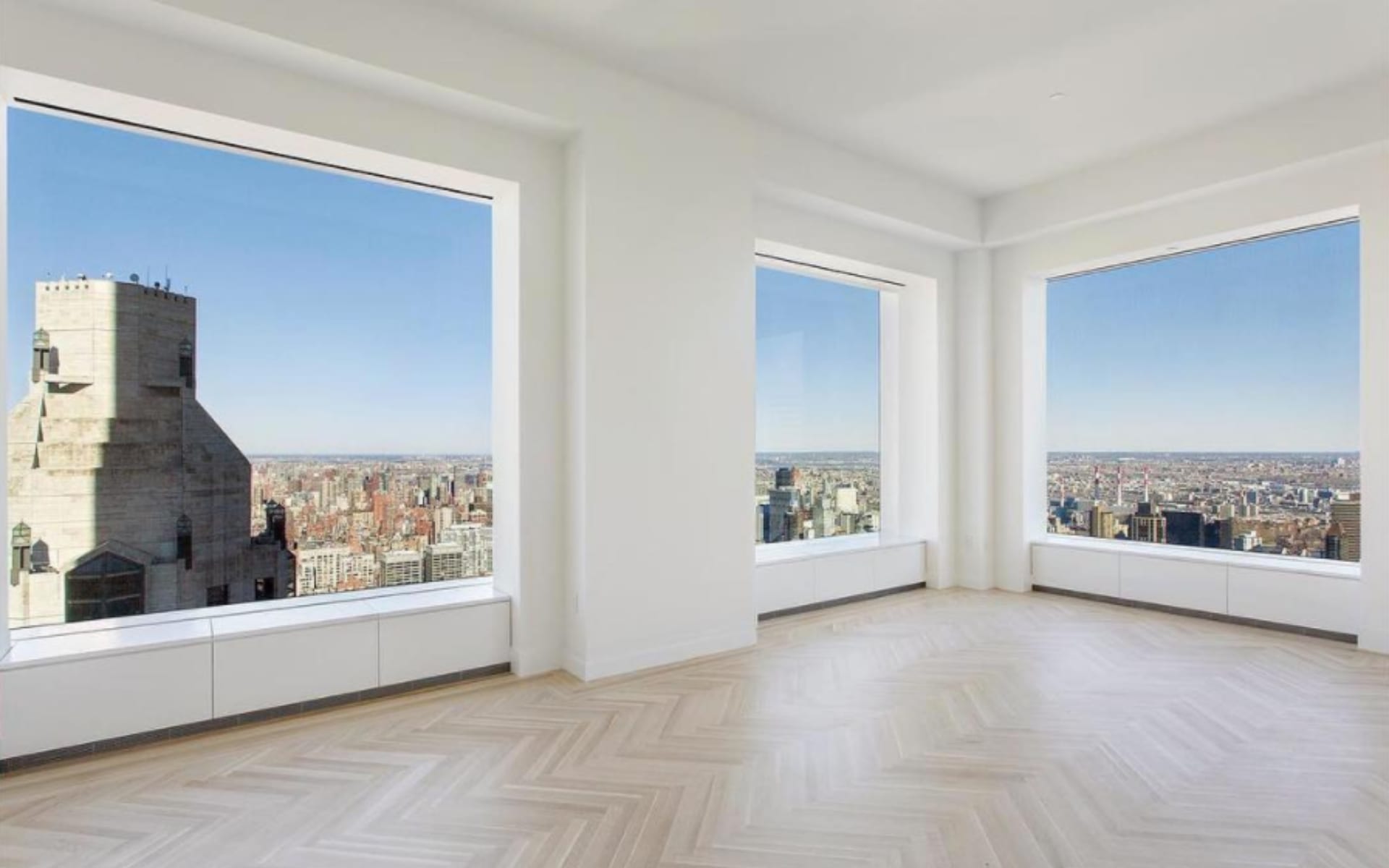 The view from a unit at 432 Park Avenue.
Across the pond, Manhattan tops the list of cities in which one simply must own property, should they wish to assert their standing among the world's wealthy elite. As the late John Lennon once crooned: "[t]oday, America is the Roman empire, and New York is Rome itself. New York is the center of the earth." And this certainly stands true today; for the ultra-wealthy, it's imperative to own a place in the Rome of today.
"Real estate—especially in red-hot, ultra-expensive markets like Manhattan—has become a favored investment vehicle for the global elite," The Week reports. "Between 2008 and 2014, roughly 30 percent of condos in big Manhattan developments were sold either to foreign investors or LLCs." And developers are taking note.
Buildings are being created specifically to attract this particular breed of ultra-wealthy foreign buyer. At 432 Park Ave, the tallest residential tower in the Western Hemisphere, the penthouse residence will set you back $95 million, boasting everything from panoramic skyline views to more than 30,000 square feet of amenities, including a world-class spa, personalized concierge and a private restaurant overseen by a Michelin-starred chef. Meanwhile, the Woolworth Building's penthouse, dubbed "the pinnacle," recently hit the market for $110 million, replete with a 400-square-foot, open-air observatory.
The Atelier, one of the fanciest condo towers in Midtown, is offering all nine units on the 45th floor in one sweeping sale, in the hopes an uber-rich foreign buyer nabs the $85 million offering, which is complete with such outrageous perks as a $1 million yacht with five years worth of docking fees, two Rolls Royce Phantoms, courtside season tickets to the Brooklyn Mets and a summer rental in the Hamptons.
Miami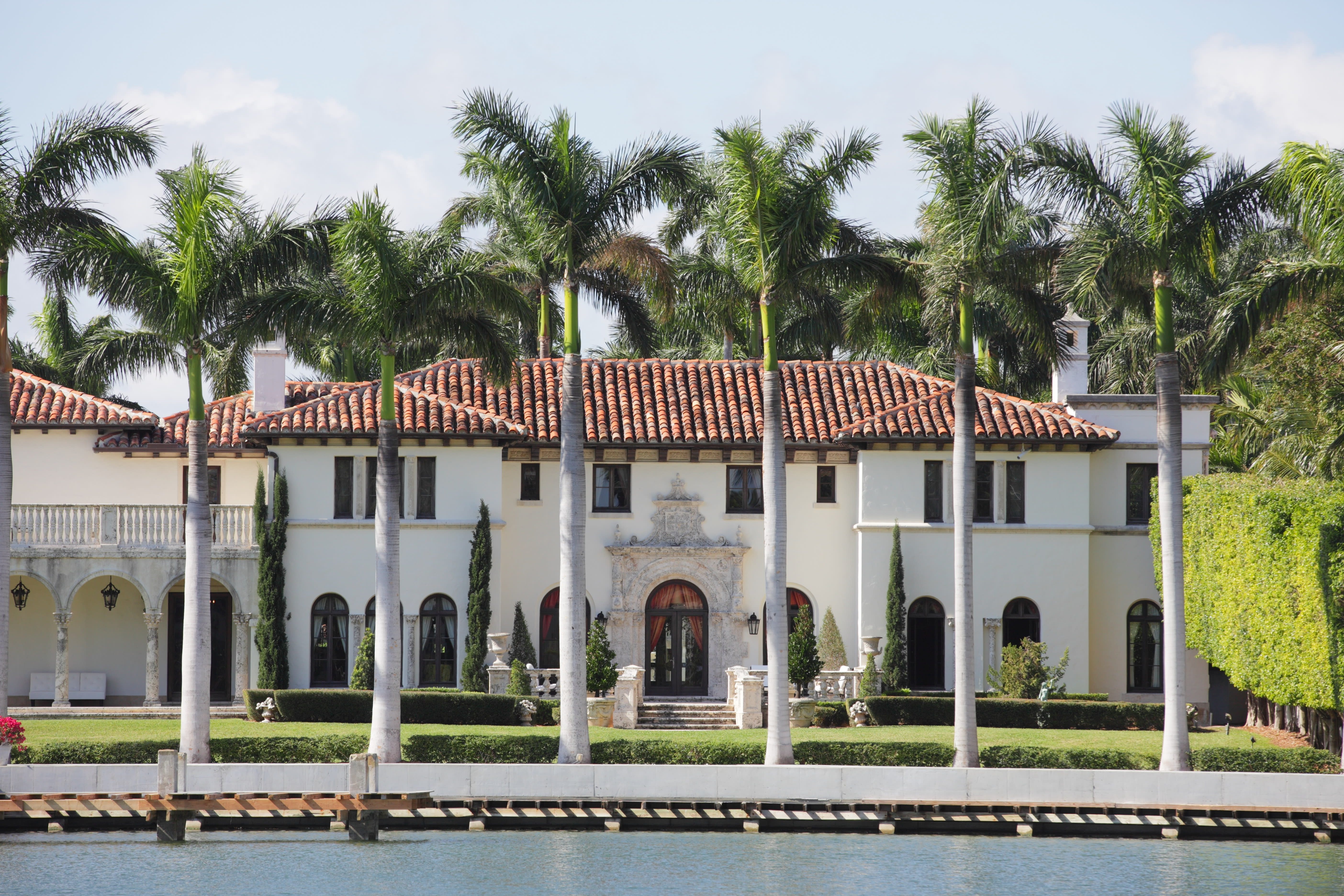 Head to Miami for a place to dock your yacht. Shutterstock
With its close proximity to both New York and Latin America, Miami is the definitive playground for the uber-rich—and the market reflects that. Great restaurants, top nightclubs and beautiful beaches, all just a short flight to virtually all major countries in Central and South America, make Miami a literal hot spot. It also touts the added stability of the U.S. economy over some of the more volatile markets abroad.
"Miami members have unparalleled access to foreign buyers compared to the rest of the country," Mark Sadek, chairman of the Board of the Miami Association, told Law.com. According to a January report from the Miami Association of Realtors®, featured in Robb Report, condo sales of $1 million or more increased by 47.6 percent year over year, while luxury single-family home sales rose 16.7 percent.
With the arrival of Major League Soccer's long-awaited Miami franchise, led by superstar David Beckham—who is rumored to be on the hunt for his own Miami manse—the city's already steamy luxury market is sizzling. The arrival of a major name, tied to the world's most popular sport will likely continue to draw an influx of Asian money, along with an increase in Miami's real estate prices overall. And with the unveiling of Island Gardens Deep Harbour in 2016, a superyacht facility developed by Turkish businessman Mehmet Bayraktar, Miami's draw got a whole lot bigger for ultra-wealthy visitors who previously had no place to dock their floating palaces in The Magic City.
Monaco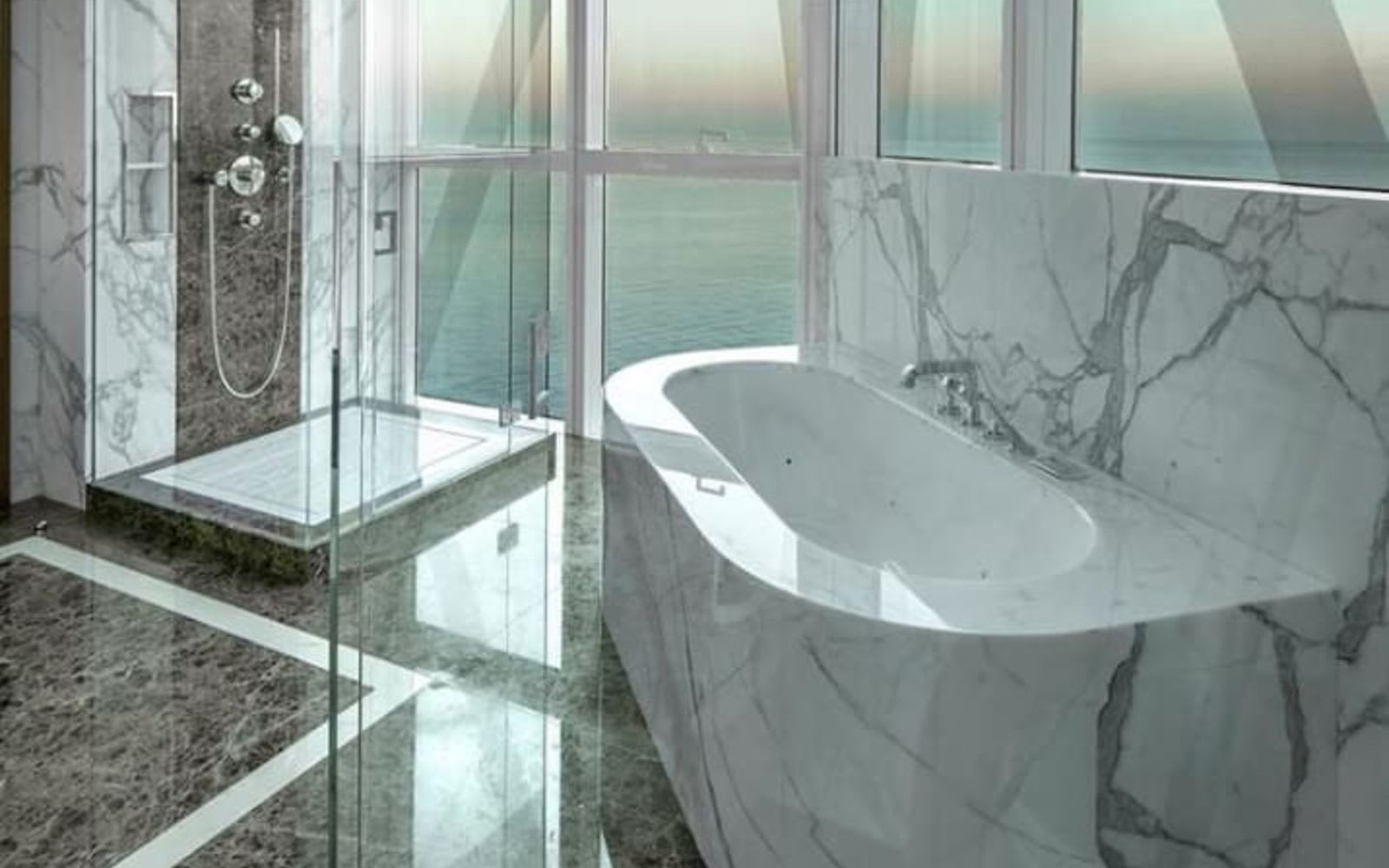 While the posh principality has long been a retreat for the super-rich—one in three residents are millionaires—prices in Monaco have skyrocketed in recent years. Set on the French Riviera, the region is ideally situated to cater to the globetrotting wealthy, and its notoriously tax-friendly history has made it a leading tax haven for Europe's moneyed elite.
Monaco currently touts the most expensive apartment in the world—a $335 million penthouse in a 49-story concrete-and-glass tower called Tour Odéon. The 31,500-square-foot, five-floor penthouse features a rooftop deck and pool with a waterslide that stretches from the dance floor to the infinity pool.
"The fact of the offering, and the confidence of the developers as shown in the sheer mass of the mixed-use project in such a tight, hot, postage-stamp of a realty market as Monaco, is an indicator of the health of Europe's luxury market" Forbes reports. It helps that this city plays host to a number of annual star-studded events such as the Monaco Yacht Show and the Monaco Grand Prix.
Los Angeles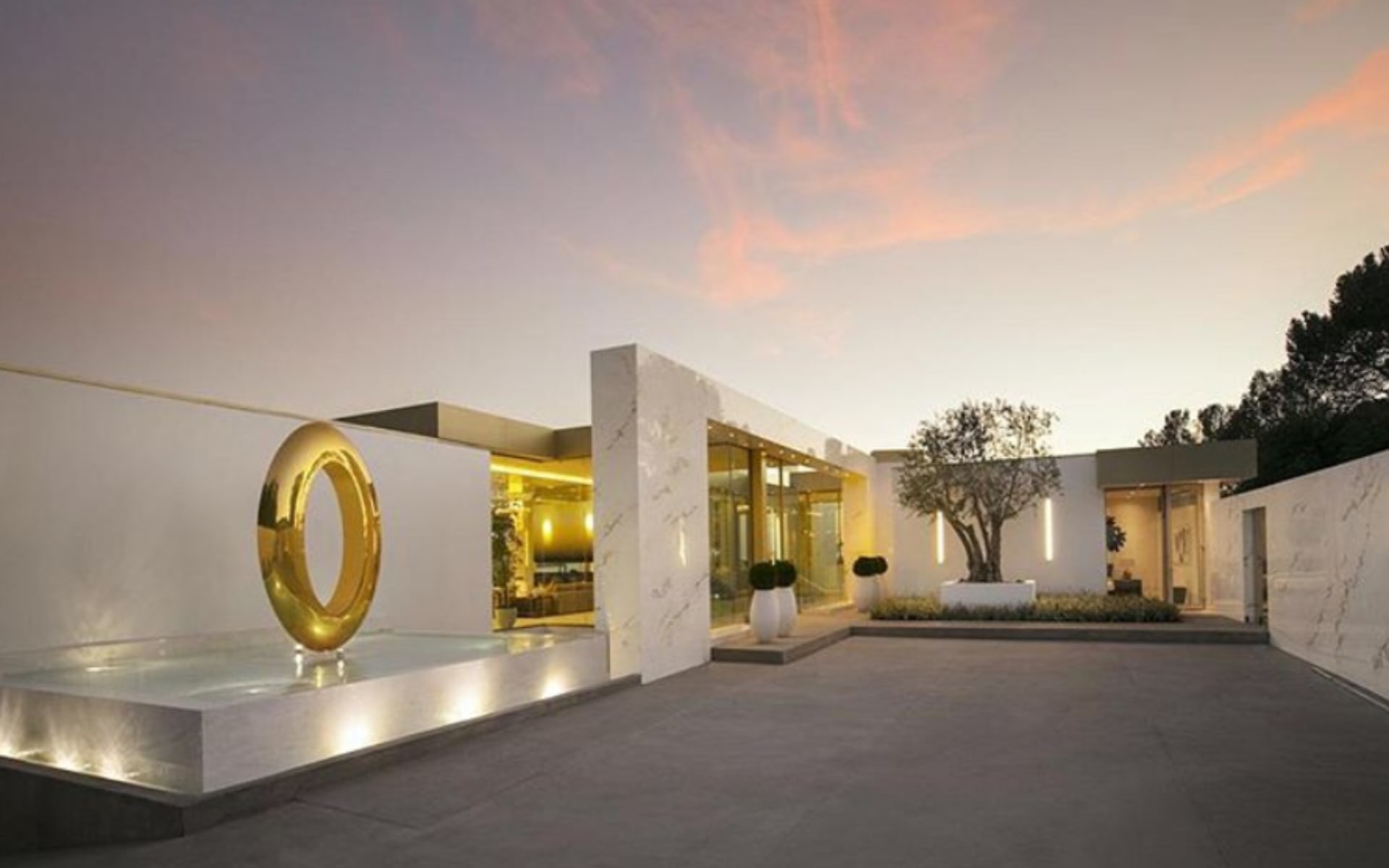 Opus, located in Beverly Hills, is on the market for $77.5 million. Instagram
As the epicenter of the entertainment industry—with perfect weather and a close proximity to the beach—it comes as little surprise that Los Angeles has risen in the ranks to become one of the world's hottest playgrounds for the world's richest citizens. But L.A.'s claim to fame now extends beyond the boardrooms and movie sets of Hollywood, with several promising tech companies, including Snapchat and Pandora, calling the City of Angels home.
A few years ago, $50 million+ listings in L.A. were virtually unheard of, but today there are dozens on the market listed for over $50 million, including a palatial, $250 million estate in Bel Air complete with ridiculous features like a moat, helipad, four-lane bowling alley, two cellars stocked with a multi-million dollar wine collection and an 85-foot, Italian glass infinity pool with a hydraulic movie screen.
Opus, an opulent, $77.5 million estate on a coveted stretch of Beverly Hills known as "Billionaire's Row," features a fully-stocked, 170-bottle Cristal champagne vault, glass-enclosed dining room surrounded by a 944-bottle wine vault, in addition to a 20-foot glass waterfall, sky bridge and a wellness center with a full-service beauty salon.
A $500 million Bel Air mega-mansion dubbed "The One" is poised to be the most expensive home listed in America and will include a 40-seat movie theater, indoor-outdoor nightclub, four infinity pools and a moat. Even Jay-Z and Beyoncé are part of this influential crowd, having purchased a modern Bel Air mansion in August 2017 for a staggering $88 million, which is currently among the most expensive real estate deals in Los Angeles County, ever.
Silicon Valley and San Francisco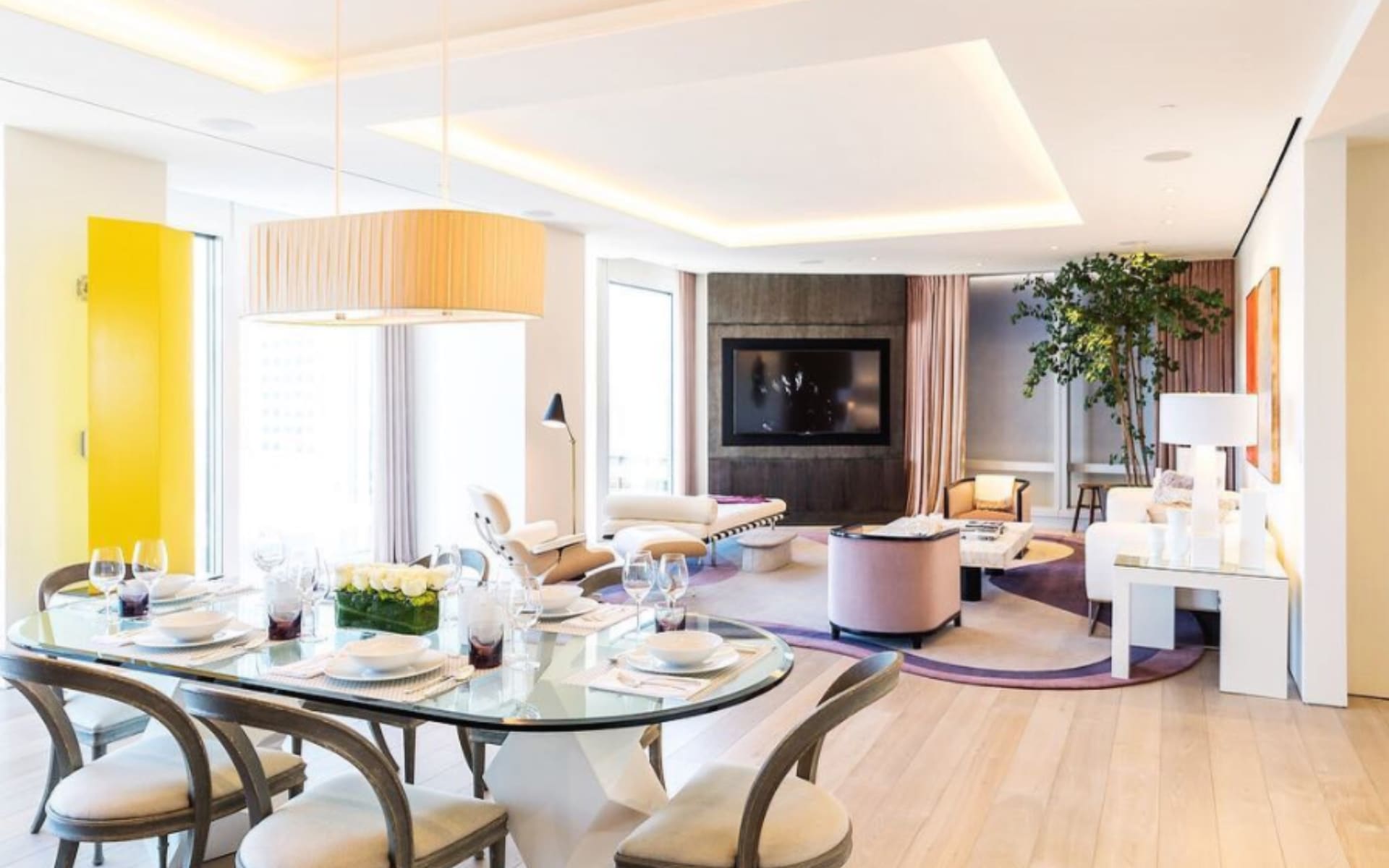 A hotbed for the technology industry, the areas of Silicon Valley and San Francisco are luring in foreign buyers, specifically those invested in technology. Facebook, Google and Apple are all headquartered here, which means if you're are a Russian billionaire, like Yuri Milner, you simply must have a $100 million home in the Bay Area.
According to Forbes, more than a third of California's wealthiest entrepreneurs made their money in the tech industry, and half of the states' billionaires live in the Bay Area and Silicon Valley. Among the 23 California residents who joined the Forbes list of The World's Billionaires in 2017, five aren't even U.S. citizens, including David Cheriton, a computer scientist from Canada, and Andreas von Bechtolsheim, an electrical engineer from Germany, both of whom were early Google investors.
"The National Association of Realtors® estimates that Chinese investors bought 29,000 American homes for a total of $27 billion in the year to March 2016," The Economist points out. As it turns out, these rich buyers focus their attention on a handful of cities, perhaps most notably, The City by the Bay.
"In San Francisco Bay-area locations such as Palo Alto and Woodside, home prices have risen by double digits in the past three years, while the number of buyers from China has nearly doubled since 2012," notes The Washington Post.
While real estate options in the city are scarce, there are plenty of multi-million dollar offerings in the high double digits to tempt the world's elite, including a $42 million penthouse at 181 Freemont in San Francisco's Yerba Buena neighborhood, boasting 6,941 square feet of living space across the entirety of the high-rise's top floor, and 2820 Scott, an opulent, circa 1904 home with panoramic views of the Golden Gate Bridge and Bay that is asking $29.5 million.